Vanity Fair Article on the Chelsea Hotel
---
---
Exciting News for the Tenants of the Chelsea Hotel!
it looks like there is some very exciting news (finally) for The Chelsea Hotel Tenants Association. the new owners are working to repair the relationship with the tenants and are reaching an agreement to insulate them from any crazy rent increases or unlivable conditions due to the renovations to the Hotel.
check out the Article on The Real Deal for more on the settlement.
congratulations to our friends over at The Chelsea for persevering throughout this crazy battle — long live its legacy as a home for artists! 
---
Chelsea Hotel Gala at the Players Club
Please come out and support The Chelsea Hotel Tenants Association and their cause to preserve the historic Chelsea Hotel!
The Chelsea Hotel Tenants Association
Historic Preservation Charitable Trust
Memories… Memories…
If walls could talk …
TONIGHT !
Summer Benefit Auction
You are cordially invited to a gala evening with silent and live auctions to benefit The Chelsea Tenants' Association Historic Preservation Charitable Trust & Preserve The Architecture, The Arts through Education and Awareness Program
Tuesday Evening, July 17, 2012 at 6 PM
The Players Club
16 Gramercy Park South
Tickets: $150
6:00 pm Open Bar, Hors d'oeuvres, Silent Auction
&
Much More !
ACTION COMMITTEE
Carolyn Marino, Mary Anne Rose-Gentry ,
Amy Quint & Zoe Pappas
Co-Chairs
Ms. LINDSEY WALLACE
NATIONAL TRUST OF HISTORIC PRESERVATION
WASHINGTON, DC.
Charles Klabunde & Lee Boyd, Carolyn & Thomas Marino,
Joseph Michaels IV, Amy Quint & Mathew Park,
Pavel Zoubok and Paul A. Baglio, Jr.
Anthony & Colleen Korf, George & Lisa Rothman,
Edward L. & Betsy Pinover Schiff,
Don Joint & BriceBrown, Edward Lewis & Glen Weilgus,
&
William Wilson IV & Sybao Cheng-Wilson, Judith Childs,
George & Amanda Chemeche, Colleen & Dahlia Weinstein,
Meli Pennigton, Timothy Sullivan & Hilary Farrell,
John Knoernschild, Mary Anne Rose Gentry, Tony Notarberardino,
Mark Timmerman, Rachel Cohen-Lunning.
AUCTION HIGHLIGHTS
Fine Art
Photography
Jewelry
Fine dining
&
Much more
---
Voices from the Chelsea Hotel Soundwalk Experience
:: some beautiful excerpted responses to the Chelsea Hotel soundwalk event. a huge thank you to all that attended! ::
"We arrived across the street from the Chelsea. I never noticed how big it is. Or how detailed the railings are. Or how beautiful the roof is. But while looking up at this huge brick building, I heard hope in the voices on the piece. Then I noticed a couple on one of the balconies sharing a bottle of wine. This place may be haunted by ghosts of the past, but its present has a human face.
May their voices continue to be heard!"
~ Liza Wade Green, 
Brooklyn-based performing artist
 ~ 
"I was quite moved by the walk for a couple of reasons.  1. It really made clear how generous for the continued growth, development, and freedom the Chelsea Hotel has been for artists and 2. I enjoyed so much that you had set-up an experience for other people (I imagine everyone involved including residents and participants.) that was utterly selfless.  It was pure artistic journalism for a cause. Work, I believe, we need more of."
~ Deborah Black, 
Dance and Theatre Artist
 ~
"This is a much deeper picture of the Chelsea Hotel than the sex, drugs, and rock 'n' roll story that I think most people know. It seems like at its best it was more of a hive: linked as a community, with a great deal of work going on, but mostly behind closed doors. It was a nice reminder about how much of New York, even what we think of as public, is actually secret: an interesting topic to tackle in a semi-public, community-based project…Some things are best left simple; both the Chelsea Hotel itself and the soundwalk project are excellent, successful examples of this. Congratulations on your light hands and clear work."
~ Chloë Bass, Artist & Public Practitioner ~
"It was a great event!"
~ Janet Ray Kalson, lawyer for the Chelsea Hotel Tenants Association ~
"You did quite an amazing job choosing, editing, and refining the audio material…the musical collaboration with Gerald was a gem of the experience and glued the sound-walk and history, or feeling of the Chelsea Hotel, together seamlessly. Taking the chance to collaborate so closely with a resident, and on such a crucial piece of the audio portion, was a brave choice. I felt at times during the walk that I was part of a film-noir epic…wandering with subtle clues to an imperceptible mystery."
~ DMunk, musician and collaborator extraordinaire ~
I just want to join in the chorus of voices saying congratulations! It was touching seeing how quickly and deeply you all connected with your community, and that you were able to do something so obviously meaningful to benefit them.
~ Ellery Royston, musician and electronic sound artist ~
The group (and their volunteers) handled the beginning of the walk expertly.  I was told things like "there is no wrong path" and "you can't get lost," and this instantly mitigated whatever anxiety I had about doing the walk as it was intended to be done.  I liked the looseness of the time (viewers being encouraged to sit down and listen, people given a rough estimate of when it would be good to exit to 23rd Street), as well as the fact that it didn't seem gimmicky at all about trying to time certain views, play head games with the listener, etc.  The fact that it was not strictly timed put me in a nice, flaneur-y state of mind.  There was no worrying about whether or not you were having the correct audio-plus-visual experience.  I also liked the fact of seeing other people I knew experiencing the sound walk but not being able to talk to them.  One potential problem with self-directed audience experiences is that suddenly people pick up a conversation from a previous meeting and quickly lose their focus on the here-and-now.
I kept thinking that the High Line seemed a long ways away from the Chelsea of Virgil Thomson and the New York Dolls.  This reached a crescendo as one approached the futuristic luxury buildings near 23rd Street.  It was a relief to go back to the street level.  The High Line always strikes me as so mystifyingly curated.  Who curated the Mexican Ice vendor?  What invisible entity makes those oh-so-tasteful decisions?  When you get back to street level, it's back to the psychics and the tattoo parlors and Petland Discount.  You can't curate Petland Discount.  After the audio portion, it was a pleasant shock to see the HOTEL CHELSEA sign.  It was also a relief to remove the earphones and to have the city soundscape come rushing back—it hadn't been curated completely out of existence. 
~ David Grubbs, associate professor, PIMA ~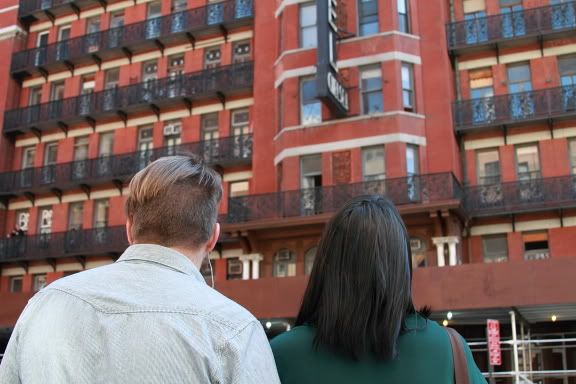 :: Dan Green and Liza Wade Green listen to the Voices of the Chelsea - photo by TJ Hospodar ::
---
Chelsea Hiatus But Lobsterbird Flies Back Soon!
: sorry that i have been M.I.A! i had to take a brief break from NYC to travel Southeast Asia, doing a multimedia stage adaptation of Haruki Murakami's novel The Wind-Up Bird Chronicle and filming some Lobster Shenanigans…
but Chelsea has been on my mind a ton today. i will be back in less than a week and can't wait to catch up with the residents and make some more art about and with the Hotel.
if you want to know some of what i am up to on my personal work and travels, you can check out my other blog here:
see you back here soon!
xxxSoph
---
Chelsea Musings from Hal Himmelstein
What is so amazing, in this particular case, is that when I first moved to NYC in 1983 I lived down the block from the Chelsea Hotel on the 3rd floor of a dilapidated four-story apartment building next to what is now Petland.  That building is gone now.  I lived there from 1983 to 1989.   There are so many great stories to tell about that block from the "old days."  The neighborhood is not the same any more, of course.  In the basement of my apartment were a group of Puerto Rican numbers runners operating in the back room of what at night was a low-brow disco (music blaring until about 4 in the morning). The police finally arrested them in 1985.  On the second floor of the building next store was a Brazilian voodoo church.  On the corner of 23rd and 8th Ave was a bowling alley on the second floor of a Duane Reade drug store.  And a few doors to the east of me was the famous Midnight Records, with some of the city's greatest recycled vinyl.  Toward the end of my life there (before I went to live in Finland), I was finishing work on a manuscript in between puffs on a joint.  I thought I would take a walk down to little deli next to the Chelsea Hotel to get a Dove Bar.  It was about midnight and I had to teach the next morning.  I got the Dove Bar and headed home, but somehow missed my entryway and ended up  by the Hudson River. Toward the end, my landlord sold the building which was going to be torn down to build a high rise (that never happened for some reason). He evicted the crazy former college football players on the fourth floor, and then the funky architect and his wife on the second floor.  I refused to move.  So one day, following my teaching day out in Brooklyn, I came home to find yellow police tape blocking the entrance; seems as though a fire had broken out in the basement.  My flat was smoky but still intact, and my wonderful little black cat, LP, was OK.  I managed to squeeze a few bucks out of the landlord before I vacated.  Thumbnails  from 23rd Street… memories brought back by the Chelsea Hotel.
~ from Hal Himmelstein, spiritual founder of PIMA ~
---
: it's against zoning laws. the Chelsea Hotel is already as big and beautiful as she needs to be.
and p.s. no one in the Hotel (and most people outside of it) want it.
"'The hotel is already overbuilt, so there's no room for a rooftop additional at the hotel,' said CB4 Chair Corey Johnson at last week's full board meeting."
big yay to tremendous support from the Chelsea's hero politicians, Corey Johnson and Christine Quinn!
---
"The residents of the Chelsea Hotel may still return to their mold-infested, dust-filled rooms this evening, but it will be with the glow of victory.
After failing to get the historic hotel's new owner Joseph Chetrit to negotiate an agreement to repair the decaying building's moldering walls, asbestos-filled airshafts and crumbling plaster, the tenants took the sidewalk yesterday in front of their building yesterday, along with a phalanx of politicians, to declare that they were ready to take the matter to a housing court trial.
The Chelsea Hotel Tenants Association, which filed a lawsuit against the Chetrit group to force the group to rectify unsafe conditions in the building last December, finally got its agreement today in housing court, said tenant attorney Janet Ray Kalson.
'It's done!' announced a jubilant Ms. Kalson Monday afternoon. 'The main thing was that they needed to be put under order. Now there's a very detailed time for repairs to the building. We're very pleased.'
The agreement is very similar to "final" one that tenants and the Chetrit group negotiated last month, Ms. Kalson said, with only a few minor changes. The landlords' decision to renege on that deal at the last moment, insisting on yet more changes, is what prompted residents' to seek alternative avenues to improve their living situation, she said.
But given the many promises of improved conditions that the Chetrit group has broken over its brief time as owner, did Ms. Kalson think a court order would finally do the trick?
'We shall see… to be continued,' she said."
…and the battle continues on, but with support from all sides…
: apartment decorated on the 10th floor, with photos of Corey Johnson and Christine Quinn to commemorate the press conference Sunday. photo courtesy of Hotel historian Sherill Tippins
---
---