"[On Sunday] the Hotel Chelsea got some attention in the form of a somewhat impromptu press conference on the sidewalk outside of the landmarked building. In recent years the strong community that had formed over decades has fallen apart at the seams, which started to happen the minute Stanley Bard was forced to leave as manager . The current state of things inside is dismal, with some remaining tenants holding strong, as construction crews gut their home and expose them to hazardous conditions, and new landlord Joseph Chetrit makes eviction attempts.
The press conference featured Speaker Christine C. Quinn, State Senator Tom Duane, Assembly Member Richard Gottfried, the Chelsea Hotel Tenants Association, and local groups—all calling on Chetrit to reach an immediate agreement with tenants to repair hazardous conditions in the building."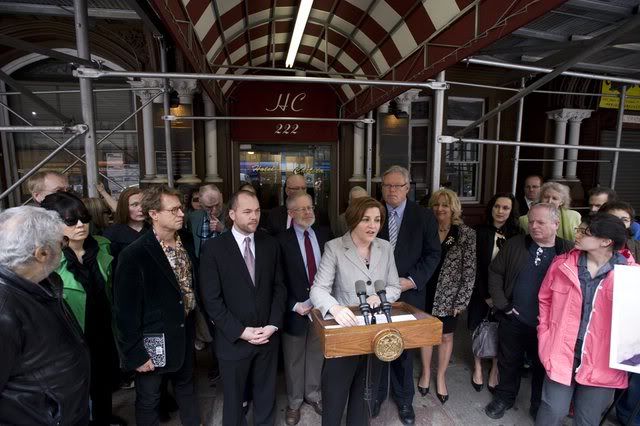 …and complicated relationships are questioned amidst the community - can the residents come together to generate greater positive change as a solidified force? 
---
Post-Soundwalk Musings
: after our glorious soundwalk ending in a party at the Chelsea Hotel, i found myself sitting on the train next to the very same person who i was sitting next to on the way to the Chelsea. i noticed his bag (it looks like something from Dylan's Candy Bar even though i knew it was from some boring expensive highbrow lotion store or something of that nature, trying to conceal itself as something fun that people might want or need). his all brown outfit, his all brown skin, even the color scheme of that bag— he was almost all brown. he seemed to me kind of quiet and put together and withdrawn, yet somehow nice. and there i was in nearly all black, pale yellow skin, with lace sleeves popping out from underneath my cape—looking almost unconventionally goth but with splashes of color poking out here and there. i was writing. and he was on his portable device. and here we were sitting in the same configuration, nine hours later, on a crowded Q train yet again…
i didn't know what that meant…so i talked to him and said, "how strange— i was sitting next to you on the way into the city." i didn't really get a response that hinted at surprise on his part. an acknowledgment, yes. surprise? not really.
so we both went back to our respective tasks and never spoke again for the rest of the trip. oddly, we got off at the same exact subway stop and parted ways. and i wondered if he thought i was stalking him. i hoped, rather, that by acknowledging our shared experience, perhaps i was able to create a kind of shared awareness…
and isn't that it, really? that even those of us who seem to have nothing in common still share something?
for this guy, him and i shared time and space. we now have a shared sense of our corner of the world. and isn't that something? because my time is spent in some very strange ways and in some very strange places. and yet i share some of those oddball elements of my own life (even if only in duration and proximity) by someone who seems very different from myself.
and i wondered if we all, as humans, share something. all of us different, and all of us having something, or series of things, that bind us. and what more if we acknowledge that, if we just say to each other, "hey. isn't that funny…" maybe we can learn to share something deeper— we would get to know each other a little bit better. and understand that we are headed towards a similar place. 
as i was traveling over to the High Line with a group of about fifteen residents taking the inaugural soundwalk, i was talking to Nick Pappas who, towards the end of our process, caught wind of what we were doing and started to sail along…
i brought up my thought (inspired on the train ride down to the Chelsea) that we had unconsciously created a pilgrimage to get us all to the same destination. that, in our own time and our own way, we would walk together— united by the sound of these voices and the connective tissue of Gerald's score. and that we would end up at the Chelsea, our creative temple— all at once being a home for artists and a space for art to be created. home, to my mind, provides a haven to practice one's spirituality in private and art is the ultimate spiritual conduit to the heavens.
and so we walked…
walking alongside the tenants, i realized how natural it was for them to lead the way. that these amazing people were there to help guide us along the path, themselves drawn by a history and spirit and lineage that extends well before them. 
because our piece was created as one dependent on the elements, no one thing that happened today was set in stone…there was the weather, which up until today was chilly and rainy. there were the tourists and management on the High Line who were in our way. even the walk itself, loosely structured and with non-existent audio direction, could have created confusion and anxiety. and yet we all, as far as i could tell, made it to our destination with high spirits.
and boy did we! the Cervantes Room of the Chelsea, much more appropriate for our event than the Dulcinea Room (bigger, broader, and named after the writer of El Quixote himself) was packed to the brim with old friends and collaborators, as well as new ones, complete strangers, and spirits that lingered in the spaces between. there was a buzzing in the air and a feeling of celebration.
between running around like a crazy person, i was able to introduce some of the residents to my friends who participated in the walk. it gave me great joy to say, "this is Andre, he's an incredible filmmaker." or "meet Daniel, he is my brilliant sound designer friend and collaborator."  "this is my writers group turned creative group—everyone is really unique and they constantly inspire me to be a better artist. we help each other find alternate ways of supporting one another." "oh! and meet Jenna, another filmmaker who I collaborate with. you'll love each other!" and the list goes on and on and on…
i thought about my collaborators Serra Hirsch and Dan Munkus who came to help out for the day. i barely saw them while i was running around in a logistical frenzy, and yet they inspired in me a sense of calm, simply by knowing that they were there at the start. i felt centered knowing that their unique energies were in exactly the right spot on this day.
and i started to make all these connections. about why we are here, what we are doing, and where we are headed.
and my absolute favorite part of the day was that the art facilitated real human connection. across time and across generations, we have made some kind of contact. we could be in our own private audio bubble and then we could all share in that experience together.
the story of this piece is one of collaboration. it started with Andy, Radek, Erik, and myself, and extended out to Rose Wood, who connected us to Gerald and Zoe. it continued reaching out to all the residents who lent their voices and stories, opening their homes and hearts. we, in turn, extended our art back to the other residents that we met on the day of the walk, ones we haven't yet spoken with, and still to others not related to the Hotel, but who are in some way touched by what that space stands for. we went into this project with some vague idea of collaborating on a project about the Chelsea Hotel and came out with a community.
so where does this modern-day pilgrimage end? is it at the Chelsea Hotel? are we at our final destination? in the state it is right now, it needs help. we haven't taken care of our temple. so we have more to do, farther to go. the journey, in fact, only ends when we give up. when we think it's over. but if we keep going, if we believe that there is more, then we can continue on our way. and if we walk there together, wherever that may be, we may just find that there's a party waiting for us when we arrive.
i can't really think of a better pilgrimage than one filled with art and sunshine, and culminates in a party filled with food and friends. i can't really imagine a better way to end.
that is, until we begin again…
"He would be a smothering cloak,  a velvet petal. It was not the thought but the shape of the thought that tormented him. It suspended above him, then mutely dropped, causing his heart to pound so hard, so irregularly, that his skin vibrated and he felt as if he were beneath a lurid mask, sensual yet suffocating.
I thought I would be there when he died, but I was not. I followed the stages of his passage until close to eleven, when I heard him for the last time, breathing with such a force that it obscured the voice of his brother on the phone. For some reason, this sound filled me with a strange happiness as I climbed the stairs to go to sleep. He is still alive, I was thinking. He is still alive."
~ Patti Smith, Just Kids ~
---
transformation at the Chelsea
: my day on Friday:
from running around day and night, drowning in a sea of schoolwork, my backpack was smelly, heavy, and dirty. after a magical celebration at Tony's apartment in the Chelsea, when i retrieved it, it smelled like coconuts and was covered in glitter. i left feeling infused with the spirit of burlesque and the warmth of community.
: yesterday:
we put the finishing touches on the soundwalk and cleared up *nearly* all the logistics with our group. we used the resources of the Apple Store and Staples. we talked about community action vs gentrification and how the relationship is super complicated. i wondered if can they peacefully and mutually beneficially co-exist…
we came out of Staples as a power unit— feeling accomplished and unified.
: today:
we bring our art on the Chelsea to the world. it will be a day of Chelsea. it is beautiful day.
i wonder in this moment: what will the day bring? and how will we be transformed yet again?
xxxSophie
---
: a neighborhood testament to how community can create change. the power of public space to bring people together. come walk hand in hand with us on the High Line…
(Source: ted.com)
---