Chelsea Hotel Gala at the Players Club
Please come out and support The Chelsea Hotel Tenants Association and their cause to preserve the historic Chelsea Hotel!
The Chelsea Hotel Tenants Association
Historic Preservation Charitable Trust
Memories… Memories…
If walls could talk …
TONIGHT !
Summer Benefit Auction
You are cordially invited to a gala evening with silent and live auctions to benefit The Chelsea Tenants' Association Historic Preservation Charitable Trust & Preserve The Architecture, The Arts through Education and Awareness Program
Tuesday Evening, July 17, 2012 at 6 PM
The Players Club
16 Gramercy Park South
Tickets: $150
6:00 pm Open Bar, Hors d'oeuvres, Silent Auction
&
Much More !
ACTION COMMITTEE
Carolyn Marino, Mary Anne Rose-Gentry ,
Amy Quint & Zoe Pappas
Co-Chairs
Ms. LINDSEY WALLACE
NATIONAL TRUST OF HISTORIC PRESERVATION
WASHINGTON, DC.
Charles Klabunde & Lee Boyd, Carolyn & Thomas Marino,
Joseph Michaels IV, Amy Quint & Mathew Park,
Pavel Zoubok and Paul A. Baglio, Jr.
Anthony & Colleen Korf, George & Lisa Rothman,
Edward L. & Betsy Pinover Schiff,
Don Joint & BriceBrown, Edward Lewis & Glen Weilgus,
&
William Wilson IV & Sybao Cheng-Wilson, Judith Childs,
George & Amanda Chemeche, Colleen & Dahlia Weinstein,
Meli Pennigton, Timothy Sullivan & Hilary Farrell,
John Knoernschild, Mary Anne Rose Gentry, Tony Notarberardino,
Mark Timmerman, Rachel Cohen-Lunning.
AUCTION HIGHLIGHTS
Fine Art
Photography
Jewelry
Fine dining
&
Much more
---
"You can buy the Chelsea Hotel, but you don't own the Chelsea Hotel, the Chelsea Hotel owns you."
~ resident Brian Bothwell, filmmaker & photographer ~
The building's famous exterior (melfoody, flickr)
---
: press for the Chelsea Hotel as coverage on their cause starts to explode into the media!
and NYC council members speak out on behalf of the Hotel!
"'The landlord of one of Chelsea's iconic buildings has done less than nothing to improve these conditions,' said City Council Speaker Christine Quinn. She added, 'in fact, turning a blind eye and deaf ear to them only makes them worse.'
Neither Chetrit nor his lawyer, Fred Daniels, could be reached for comment.
The 12-story building on W. 23rd Street – which over the years has drawn artists and celebrities like Patti Smith and Bob Dylan for extended stays – was purchased by the Chetrit Group last year for close to $80 million. In December 2011, tenants sued Chetrit demanding that he repair unsafe conditions at the building.
Samuel Himmelstein, a lawyer for the tenants going to court, accused Chetrit of trying to drive long-term tenants out of the hotel. "You know you come in, you make conditions miserable, you start eviction cases against people and then you dangle money in front of people in the hope that they'll take it since their lives are so miserable here.
'It's the kind of harassment we used to see in the 70's and 80's. It's come back at the Chelsea,' Himmelstein added. His firm is also representing several of the tenants facing eviction proceedings.
There are a total of 160 rooms in the building. About half were occupied by long-term tenants when Chetrit bought the building, according to Himmelstein.
Mary Ann Rose is one of those tenants. She has lived at the Chelsea Hotel since 1983. The 62-year-old artist says she has mold in her walls from water that regularly pools outside the window of her eighth floor apartment.
'It becomes a permanent pigeon birdbath. So that's what started the mold,' said Rose. She is a member of the Hotel Chelsea Tenants Association. There are 43 members of the tenant association, 36 of whom are plaintiffs in the lawsuit filed in housing court."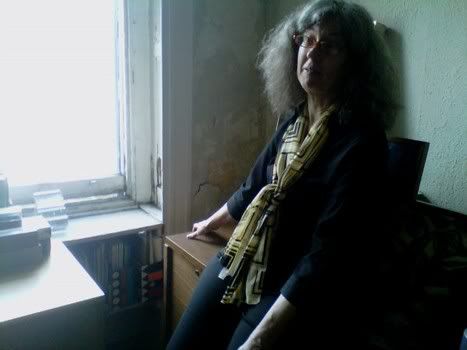 ---
"On Sunday, Quinn promised to unleash the full investigative force of all city departments with oversight of the construction until the owners complied with the judge's orders.


'We will watch the work that you do under a microscopic lens,' said Quinn. 'We will simply not let our neighbors be treated this way.'"
City Council Speaker Christine Quinn speaks against hazardous living conditions at the Chelsea Hotel on May 6, 2012. (DNAinfo/Aidan Gardiner)



---
: from Living with Legends: Hotel Chelsea Blog by Ed Hamilton
---
: the way i saw the Chelsea yesterday…
as i walked up to her to begin our event, i noticed El Quijote peeking out beneath her to support…
…everyday she reveals a new part of herself…
---